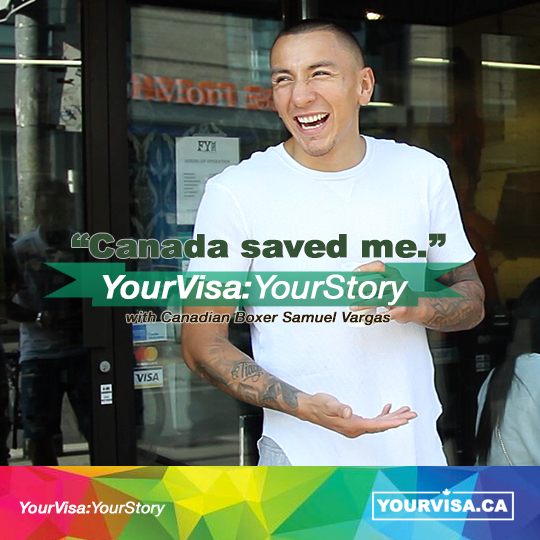 We sat down with Samuel Vargas, Canadian professional boxer, about his bout with Amir Khan; his life in Canada and; how he all got started.
YourVisa: How was life growing up?
Sammy Vargas: I grew up in a broken family, my parents were divorced at a young age. In 1992, the Colombian economy collapsed. My father lost the majority of his companies and assets, but we still had a beautiful restaurant which we cherished. With the divorce and economy collapsing, my childhood was definitely on the rougher side of things.
YourVisa: Why did you decide to move to Canada?
Sammy Vargas: Well at first, when I was ten, my family decided that we should move to New York for a better life. I moved with my sister, grandmother and father. It's funny, I used to think living in Bogota was ghetto; that was until I moved to Philly. Even though we were out of Columbia to better our lives, my grandmother knew we could do better. She saw a great opportunity for us to live in a new and peaceful environment, which is why I moved to Canada at the age of fourteen with my mother and step-father.
Although we had nothing when we got here, I realized that it was worth it. The benefits the Canadian government provides to its citizens are amazing; newcomer programs, food banks, English classes, health care; everyone was so polite and helpful.
YourVisa: When did you get into boxing?
Sammy Vargas: It all started in school. At first, I was not able to enjoy school as I was the new kid in class who could not speak English, sometimes my classmates would make fun of me. I wasn't able to make a lot of friends; it also didn't help that I got into plenty of fights. I still remember the look on my mother's face when I used to come home with bruises. This is what caused my mother to put me into the boxing gym; so I could protect myself, relieve some stress and keep my mind sharp.
I got a sense of accomplishment whenever I finished a boxing class. Nobody ever made fun of me in the boxing gym. We all spoke the same language, boxing. Everyone was treated like a fighter and respected as an individual. From that point on, I knew boxing would make me into a better person. I began taking it more serious and slowly built my amateur career. This part in my life introduced me to my head coach and mentor, Chris Johnson. With him by my side, I knew I had a bright career ahead of me.
Sammy Vargas: I love how Canadians support local athletes. The fans are crazy over their Canadian stars and teams, they see their athletes grow as a person and stick around for the ride.
I regularly attend Colombian events held within Toronto. My mother and I get to enjoy many great Colombian eateries here, thanks to the vast multiculturalism this country offers; food festivals are what we live for. There is also a local boxing event that occurs every year at the Hershey Center where I perform, it's a great way for me to keep in touch with my fans.
YourVisa: How do you like to de-stress?
Sammy Vargas: To unwind, I tend to spend time with my son at the lake or park. Valuable time with him is priceless and he helps me reduce the stresses of life.
YourVisa: What do you want to say to all your fans out there?
Sammy Vargas: Stay tuned.
YourStory
YourStory showcases Canadian entrepreneurs, athletes and influences and their love/appreciation for Canada. Learn their story and why Canada is special to them. 
Knock em' Out!
Canada aims in engaging and promoting our athletes to communities and sports fans across the world. YourVisa is proud to be the official sponsor for Samuel Vargas.
YourVisa.ca is an established Canadian immigration firm located in Toronto. Are you ready to study, work or live in Canada? Allow us to make this important transition in your life as smooth as possible. Our attention to detail and perfection produces high-quality cases with exceptional approval rates.