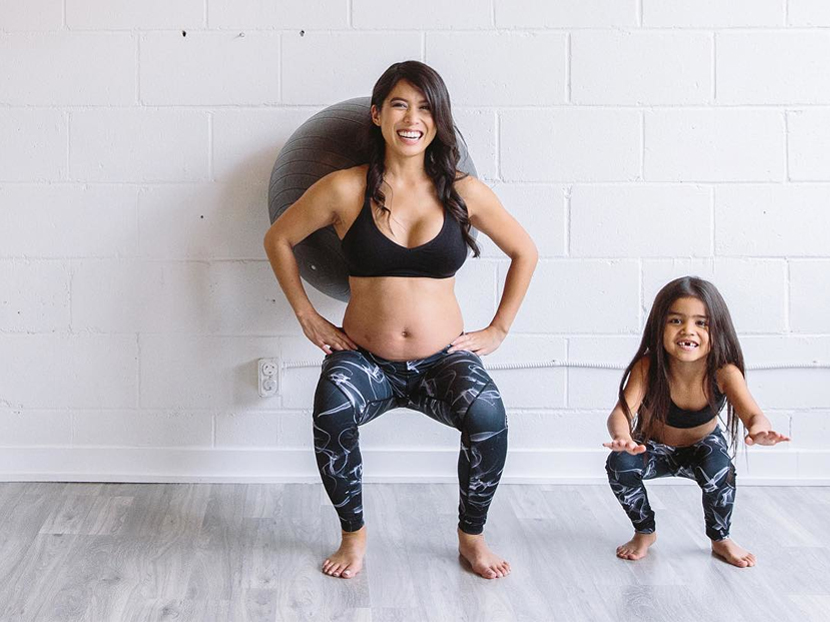 They say being a mom is the toughest job in the world (although Bill Burr says otherwise!). We sat down with Trisha Enriquez on how she balances her mom-life and the health/wellness industry. We asked, he shared. Here's Trisha's story!
A lot of people don't know this, but I grew up in the small town of Uxbridge, Ontario … on a farm! It wasn't until university that I moved to "the big city" of Toronto and I haven't looked back since. I have always loved being active. I was so intrigued by the effects of working out on our body and this led me to pursue a degree in human biology and physiology. I am still learning as I go. A lot of people don't know this, but I also work a full-time job in pharmaceuticals. Trying to juggle mom life, my blog and a full-time gig have been a roller coaster, but I'm learning to embrace every minute.
I believe it's so important to just put yourself out there and meet people in the same field. I had to not be afraid to ask people to work together. Collaborate, collaborate, collaborate. I have over 15 years experience in the health and fitness industry. I'm a certified nutrition and weight-loss coach and pre and post-natal fitness specialist. In a nutshell, I try and make losing weight and getting fit for mommies not only doable but fun! In addition to my specialized training in post-natal yoga, I'm also an official Bellies Inc. trainer which allows me to be more focused in core rehabilitation, pelvic floor health, and diastasis recti. I'm so grateful that mothers from different parts of the world have been successful with their "No Tummy Mommy" plans and for this reason, I have continued to try and build programs that help women feel their happiest and healthiest after having a baby.
As a mother myself, I realized how challenging it became to find balance, which included taking care of my health. I made a commitment to change this and I was a happier mother as a result. My family saw and felt this difference too. I wanted to help other women become healthier and happier mothers too. I am also working on some fun projects and hoping to write a kids book that focuses on the importance of fitness.
There is so much I love the Canadian culture – from our healthcare and education system to how warm and welcoming the people are. I can't say I love our long winters though. I love that Canada is made up of a diverse mix of people and cultures and we are all proud of our own heritage.
YourStory
YourStory showcases Canadian entrepreneurs, athletes and influences and their love/appreciation for Canada. Learn their story and why Canada is special to them. 
YourVisa.ca is an established Canadian immigration firm located in Toronto. Are you ready to study, work or live in Canada? Allow us to make this important transition in your life as smooth as possible. Our attention to detail and perfection produces high-quality cases with exceptional approval rates.