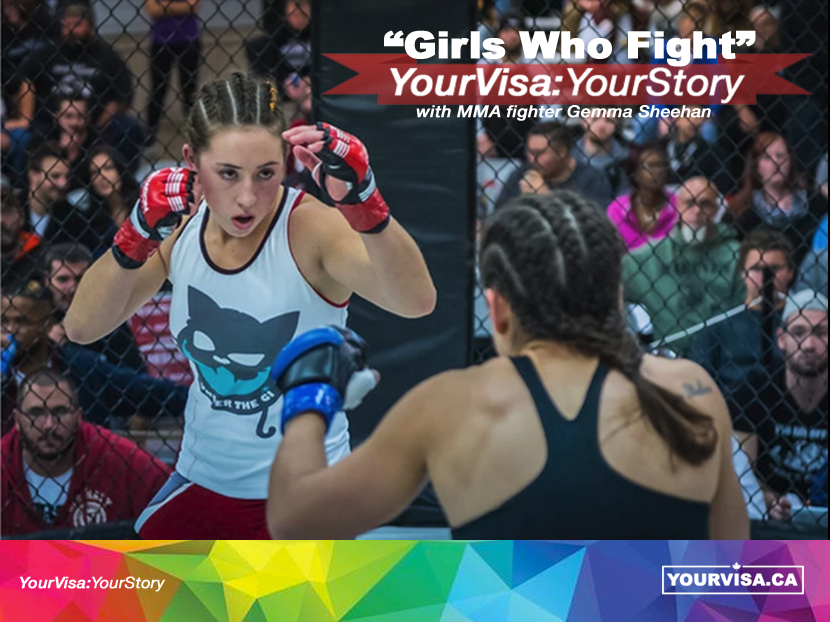 We sat down with Canadian MMA fighter, Gemma Sheehan, to learn about her women's empowerment initiative and her project in South Africa. We asked, she shared. Here's Gemma's story!
YourVisa: Were you always into fitness while growing up?
Gemma Sheehan: My mom put me into all sorts of programs and sports when I grew up, however, I didn't quite stick to any of them. Except swimming, this led to becoming a lifeguard at the age of 16. There was also dancing, singing, acting, gymnastics, drums, piano, soccer, baseball, etc. I was always active. I didn't really work out except for the sports I was in.
YourVisa: How did you get into self-defence?
Gemma Sheehan: When I was 13, I tried a kickboxing class at a gym across the street. I started training more and more over the year, and by the end of the year, I was training 6 days a week. I then started training in their Brazilian Jiu-Jitsu program, which led to wrestling and then capoeira. In 2011 I had my first kickboxing fight, which I lost. Afterwards, I started training and fighting in only MMA. I focused on building my skills for 3 years before I started my amateur career, and then in 2014, I had my first MMA fight. I lost that one too. I went back to training, competing in Brazilian Jiu-Jitsu and wrestling as often as I could. Over the next 2 years, I endured another 5 fights, winning 4 by first-round stoppage, and 1 by decision. I was pursuing a full professional MMA career, and then in the spring of 2017, before my first pro fight, I decided to stop fighting altogether. Well, stop competing. I still train and further try to expand my knowledge of the sports, but I no longer wanted professional fighting to be my life.
YourVisa: How/Why did you create Girls Who Fight?
Gemma Sheehan: I stopped fighting for two reasons. The more I trained, I was becoming much more aware of the effects of brain damage and concussions. Witnessing people around me suffer more than I can ever imagine from the effects of getting hit. MRI's showed I have something called white hyperintensities in my brain, which is extremely unusual for young people. This is found in brains that have received consistent trauma, and highly linked to dementia, alzheimer's, depression and early death. The second reason was a change in values and what I thought was a worthy cause to dedicate all my life, health, and time to. I didn't see how professional fighting would make an impact on the world in the positive way I cared for, and so I hung up my gloves. I started Girls Who Fight a few months later as a way to teach the skills I have been honing for the last ten years, knowing what a great impact the sport has made in my life. I have gained so much confidence in myself, I have adopted a healthy lifestyle and I feel competent in situations of crisis where I must defend myself or others. I knew that as a young female, I could make a very fun program tailored to girls and women who would not otherwise join an MMA gym to learn. I wanted to make a good impact to most people: It's something I'm good at, something I like, and something that is needed. These are the three intersections that I believe are necessary requirements for choosing your life's dedication or career.
YourVisa: What made you want to participate in starting a program in South Africa? How did this all get started?
Gemma Sheehan: Other than teaching self-defence, I am interested in technology. I got accepted to a computer coding program in South Africa in June. I was thrilled, but started thinking about how I could use this opportunity to do more. I knew South Africa had very high levels of assault/sexual assault cases and thought It would be a great idea if I could teach while I was there to whoever wanted to learn. I contacted about 30 local organizations that were involved with women and kids, and two of them were on board and very interested in my program (The Girl Impact Org and African Impact). I decided to go three weeks early of my coding program start date, and dedicate the time to teaching self-defence to as many kids and women as they could put me in front of.  
YourVisa: What do you hope will be accomplished with the conclusion of your program in South Africa?
Gemma Sheehan: I am being very selective with what I teach in South Africa, since I only have a few days with each group. It is very difficult to learn something a few times and be totally capable of performing it under chaos and shock. However, the people I am working with have very little access to any training whatsoever, and if I can teach them a few things they can hold on to, then I have succeeded. These include simple things like how to escape wrist, waist, and neck grabs, how to escape when someone is sitting on your chest or between your legs, how to maintain a proper stance with good footwork, range, and balance, how to use your voice and body language to assert yourself and your boundaries, and more. I hope that each student will have a few tools they will remember should they ever need to, and they become more comfortable with asserting themselves and saying no.
YourVisa: Will this program differ to the workshops/programs you have conducted here in Toronto? If so, how?
Gemma Sheehan: The program will be very similar to what I teach here with the TDSB and other groups. The difference will be that it will focus more on the simplest techniques for the most common and dangerous situations since I will have such a short time with them. We will do a lot more repetition for fewer techniques, so that they can retain the most important moves. I will be approaching the program in the same positive and fun manner, just with a bit more haste! 
YourVisa: What do you want to tell the people out there?
Gemma Sheehan: We focus on self-defence + fun.  We work hard to give each student as much knowledge, confidence, and abilities as possible!
YourStory
YourStory showcases Canadian entrepreneurs, athletes and influences and their love/appreciation for Canada. Learn their story and why Canada is special to them. 
Girl Power!
Discussing the importance of empowering women to their potential is a necessary topic Canada takes pride in. YourVisa is proud to be the official sponsor to Girls Who Fight, who plays a role in building a world where women & girls are free to pursue their dreams to reach their full potential.
YourVisa.ca is an established Canadian immigration firm located in Toronto. Are you ready to study, work or live in Canada? Allow us to make this important transition in your life as smooth as possible. Our attention to detail and perfection produces high-quality cases with exceptional approval rates.