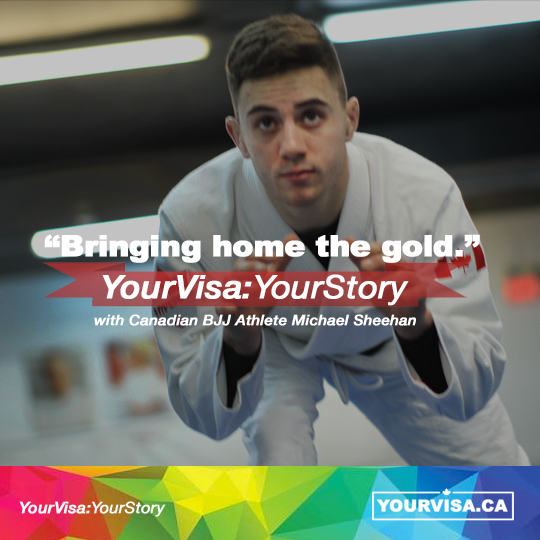 We are happy to introduce our new feature series: YourStory. A look into amazing Canadians doing what they do best! First up, Team Canada is proud to have Michael Sheehan represent the country this weekend in Sweden, at the brazilian jiu-jitsu (BJJ) world championships. We sat down with Michael ahead of his tournament. We asked, he shared!
YourVisa: How was life growing up?
Michael Sheehan I grew up in Scarborough. Moving there with my father after my parents split up at around 5 years old. Despite this, I would say my life growing up was good. It helped shape who I am today and appreciate things a little more.
YourVisa: Were you always into fitness?
Michael Sheehan: In freshman year of high-school, I was very into weight lifting and exercise solely, more or less, for aesthetic purposes. Before that, I did a bunch of different sports like swimming, gymnastics & baseball.
YourVisa: When did you get into MMA and BJJ?
Michael Sheehan: Growing up in highschool, I often got into arguements with the older kids trying to pick on me and my friends. I didn't like accepting disrespect. My sister was training muay thai right up the street from where we lived; she knew I was getting into some trouble and kept telling me to try it out. At 15, after a few more incidents I decided to try muay thai. From there I became interested in MMA and BJJ as well.
YourVisa: What drew you more towards BJJ?
Michael Sheehan: I had a few in-house muay thai fights, but after competing for the first time in BJJ I became much more goal oriented in jiu-jitsu than any other sport. I slowly focused more solely on BJJ until it was all that I did.
YourVisa: What made you want to start competing?
Michael Sheehan: I have always been a very competitive person, trying to win at whatever it was I was doing. For a long time I didn't have anywhere serious to channel my competitive energy, but after competing in jiu-jitsu I was more or less addicted.
YourVisa: What are you current and future goals in BJJ?
Michael Sheehan: Training for life, becoming a world champion, getting my black belt and owning my own gym are certainly important to me. More short term goals include simply teaching more, winning my upcoming tournaments, and starting a BJJ program of my own. The biggest long term goal to me is to become the first Canadian world champion at black belt.
YourVisa: Do you think representing Team Canada in the upcoming world's tournament in Sweden will be your toughest yet? How do you prepare?
Michael Sheehan: I've already represented Canada in this event last year in Colombia, so I have an idea as to what I can expect. The rule-set is a little bit different and my opponents are more than likely ones I've never fought before. Preparation is just as always, training hard consistently, day-by-day, and spending time sharpening the strong side of my game and developing the lesser sides. Whether its my toughest competition to date, I'm not too sure, but I'll be training as if it were.
YourVisa: What do you enjoy about Canadian culture?
Michael Sheehan: Canadian culture to me seems very open. There is a lot of acceptance for other people from other cultures, and plenty of room for their cultures to integrate with ours. Compared to some places I've traveled to, Canadian culture seems to be more polite of acknowledging others. Besides that, perhaps my favourite part is how easy it is to find food from other cultures!
YourVisa: What do you enjoy about competing in Canada vs. overseas?
Michael Sheehan: Competing in Canada nearly always means competing in front of people who I know and who know me. I get a lot of energy from friends, teammates and cheers when competing at home. The supporters around me always make me feel comfortable. I aim to give them a good performance. Over-seas is another story. I may only know the people I traveled with at the event, if I traveled with anyone at all. This solidarity also helps me focus.
YourVisa: What do you want to say to all your fans out there?
Michael Sheehan: Right now, I'm teaching more classes & private lessons and preparing for the few remaining events of this year, while outlining events of interest for the next year. I'm looking to compete in bigger events and put my name out there, while also helping build others jiu-jitsu skills and teach more as well. No matter how things unfold in the future, my expectations are high, and I'm super excited to watch it all unravel.
YourStory
YourStory showcases Canadian entrepreneurs, athletes and influences and their love/appreciation for Canada. Learn their story and why Canada is special to them. 
Keep it up!
Canada aims in engaging and promoting our athletes to communities and sports fans across the world. YourVisa is proud to be the official sponsor to Team Canada's BJJ athlete, Michael Sheehan.
YourVisa.ca is an established Canadian immigration firm located in Toronto. Are you ready to study, work or live in Canada? Allow us to make this important transition in your life as smooth as possible. Our attention to detail and perfection produces high-quality cases with exceptional approval rates.