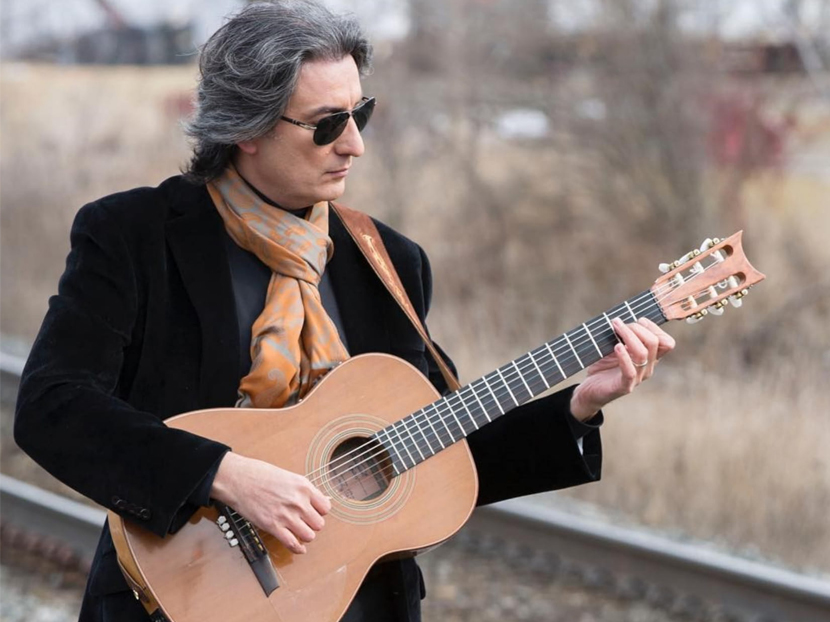 We sat down with master guitarist, Babak Amini, to learn what it takes to know all the bar chordes and how it started in Canada. We asked, he shared. Here's Babak's story!
I grew up in Tehran, Iran. At the age of 5, I remember I always wanted to play an instrument. I really wanted to play the piano, but I could not afford one, so I ended up borrowing a guitar from my cousin. I began playing the guitar at the age of 10 which was shortly after the Iranian revolution. This was a tough time for the arts and music industry to flourish. During my learning curve, the government forced to have all music stores and classes shut down. It was hard to find music schools. Luckily, I was able to find a reputable teacher and learned from him for 6 months, particular In flamenco style. I practiced up to 5-6 hours a day. Around the age of 18, I was pretty much self-taught and grabbed any piece of music I could find to improve my skills. I also met up with a fellow doctor from Paris who shared a lot of music charts. A few years later, the government began to mellow down and I got a job as a music teacher and studio session player. I recorded and worked at different studios all over Tehran. It was still quite difficult to continue with music projects as we always needed permission from the government. It took me 4 years to release my first album as we needed to get the government's approval. It also took forever in trying to organize concerts.
In 1999, I was announced the musician of the year at an Iranian music festival. Through this award, I was introduced to the Iranian legend singer, Googoosh (think of the Iranian version of Madonna). At the time, it was taboo for woman to perform live. Googoosh asked me to be her band leader. I thought she was out of her mind because it was going to be downright impossible for her to perform in Iran. But, she mentioned they are planning to move to Canada and go on tour. I knew it was a great idea so off I went.
From 2000-2006, I performed, taught and lived in Canada. My first concert in 2000, to my surprise, was held in the world-renowned Air Canada Center. I was the band leader and led a 20-piece band orchestra. This opened doors to many great opportunities. I then became a member of the Toronto Musicians Association. This gave way to performing in various festivals and events such as the TD Jazz festival. Throughout these events, I performed great collaborations with amazing artists from diverse backgrounds. It was a great privilege to learn from so many different musicians in Canada. From 2006-2010, I moved to Los Angeles to see what kind of opportunity it gave way. But, I began to feel homesick and Canada was calling my name. I decided I needed to move back home to Toronto. The greatest thing that has happened to me was making the move to Canada. Being in this country allowed me to learn and show my talent as a musician.
When in Canada, I never once felt like an outsider. I also never got homesick. Nobody ever saw me as an immigrant or teased me because of my accent (everybody here has an accent!). I was always comfortable here as the economic system in Canada gives people the opportunity to grow with their passion. It gave me the opportunity to tour and lead large bands. The time spent playing with Googoosh is an unforgettable one. I performed in many countries across the world including Iran, throughout Europe and the USA. But, the Canadian-Persian fans always seemed the most polite and friendly. Even though I might not enjoy Toronto's chilly weather, it is well worth it.
YourStory
YourStory showcases Canadian entrepreneurs, athletes and influences and their love/appreciation for Canada. Learn their story and why Canada is special to them. 
YourVisa.ca is an established Canadian immigration firm located in Toronto. Are you ready to study, work or live in Canada? Allow us to make this important transition in your life as smooth as possible. Our attention to detail and perfection produces high-quality cases with exceptional approval rates.